NIAS to host UAA Talent ID Day for aspiring indigenous athletes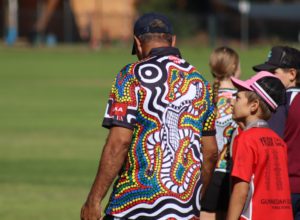 Registrations now open for aspiring young indigenous athletes, aged 13-16 years who live within the Northern Inland, to participate in the annual NIAS and UAA Indigenous Talent Identification Day.  
NIAS CEO Shona Eichorn said all indigenous athletes, showing talent in any sport, are strongly encouraged to register their interest via HERE.
"The UAA Indigenous Talent ID Day is designed for aspiring athletes wishing to advance their opportunities in sport," Mrs Eichorn said. "Talent ID is an attempt to identify people with specific skills, personal qualities and physical attributes that may lead them to become a high performing athlete."
"We encourage all aspiring athletes of Aboriginal or Torres Straight Islander descent to join us for a free and fun day of sports activities and fitness testing (by Rural Fit) at Moree PCYC on Wednesday 23rd August, from 10am and 2pm. Sports included on the day: cricket, netball, football (soccer) and rugby league.
"Please register today, by visiting www.nias.org.au and following the prompts."
NIAS is a community-based organisation dedicated to identifying regional talent and developing their potential, on and off the field.
NIAS has been supporting regional athletes for 30 years and during this time more than 4000 athletes (along with 400 coaches and volunteers) have been a part of the NIAS community, many progressing to higher levels of achievement.
"We have incredible talent within our region and it's important that we provide the opportunities, pathways and access for our youth to thrive and transition to higher levels of competition and performance, and ultimately become better people as a result.
"The upcoming UAA Indigenous Talent ID Day will enable participants to enjoy an introduction to multiple sports, where they either play games or participate in sport specific skills in a fun atmosphere to showcase their ability.
"We will have quality coaches there on the day who are experienced in talent identification. The athletes identified will then be provided an invitation to join the NIAS Sports Programs selection trials later in the year," Mrs Eichorn said.
For more information please contact the NIAS team on 02 6766 2526 or [email protected].