Northern Inland's top junior golfers invited to state tournament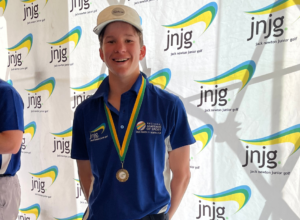 Two talented NIAS golf athletes were invited play amongst the state's top junior golfers last weekend in Batemans Bay, as part of the annual North v South Cup tournament.
Brock Galvin (Bingara) and Oliver Thomas (Tamworth) represented the Northern Inland Academy of Sport in the tournament at Catalina Golf Course, after their excellent performances at the recent 2023 Your Local Club Academy Games and Inter-Academy Golf Challenge respectively.
Facilitated by Jack Newton Junior Golf, the tournament is a match play competition between the northern and southern NSW regional sporting academies, providing a unique opportunity for talented golfers to participate in a team environment.
Unfortunately, Oliver had to cancel at the last minute due to sickness, but Brock proudly went on to play on behalf of NAIS. Brock won his last two up, and the Northern side won the Cup tournament overall – a very exciting outcome!
NIAS CEO, Shona Eichorn, said the weekend provided a brilliant experience for regional athletes.
"The NIAS team is very excited for Brock and Oliver, and this rare opportunity they had to play against the some of the state's most talented junior golfers, receive additional coaching support, participate in match play and be seen by state selectors," Mrs Eichorn said.
"At the golf course in Bateman's Bay there was leading golfing audience in attendance including selectors, coaches, sponsors and players.
"After a big investment from their families and support from NIAS, the weekend provided athletes with a rare and wonderful opportunity to participate in higher-level competition and tap into the sporting pathway."
An invitation-only tournament, Brock was invited to join after his terrific performance at the recent 2023 Your Local Club Academy Games in Wagga Wagga, and Oliver was invited following his participation in the Inter-Academy Golf Challenge earlier in the year in Coffs Harbour.
The Northern Inland Academy of Sport (NIAS) is a community-based organisation dedicated to identifying regional talent and developing their potential, on and off the field. NIAS was one of 11 Regional Academies of Sport across NSW which participated in the Games.