Applications for the 2023|24 NIAS Hockey Program are currently open and will close Friday 13 October.  Applications will open in September followed by selections in Armidale on Sunday 22 October. 
2023|24 NIAS Hockey Program Personnel are yet to be finalised. 
The NIAS program is conducted from November to April, and follows a structured approach concentrating on a range of individual technical and tactical skills, to team skills involving concept skills and game strategies.
Guest coaches ensure that the program remains fresh and interesting, and athletes are presented with new ideas and different perspectives to encourage their learning.
Off-pitch conditioning sessions focus on the importance of building core strength to improve posture, balance and technique – both speed and an introduction to core strength sessions are conducted.
This program provides performance support and covers education sessions on sport psychology, nutrition, mental health and resilience, communication training, and other opportunities.
The program consists of 6 regional training sessions held in either Armidale and Tamworth, as well as designated weekends participating in the Inter-Academy Challenge and the Clubs NSW Your Local Club Academy Games.
This primarily "off season" program is designed to provide players with increased skills and fitness to better prepare them for selection into higher levels of representation eg.NSW squads and school representative squads.
Male and Female athletes aged 16-18 years in 2024 (born in 2006 – 2008), who live in the Northern Inland region, and are a registered member of a Hockey NSW affiliated association.
Athletes will be offered a place in the NIAS Hockey Program based on performance at selection trials and through talent identification processes, including attitude and commitment to Hockey.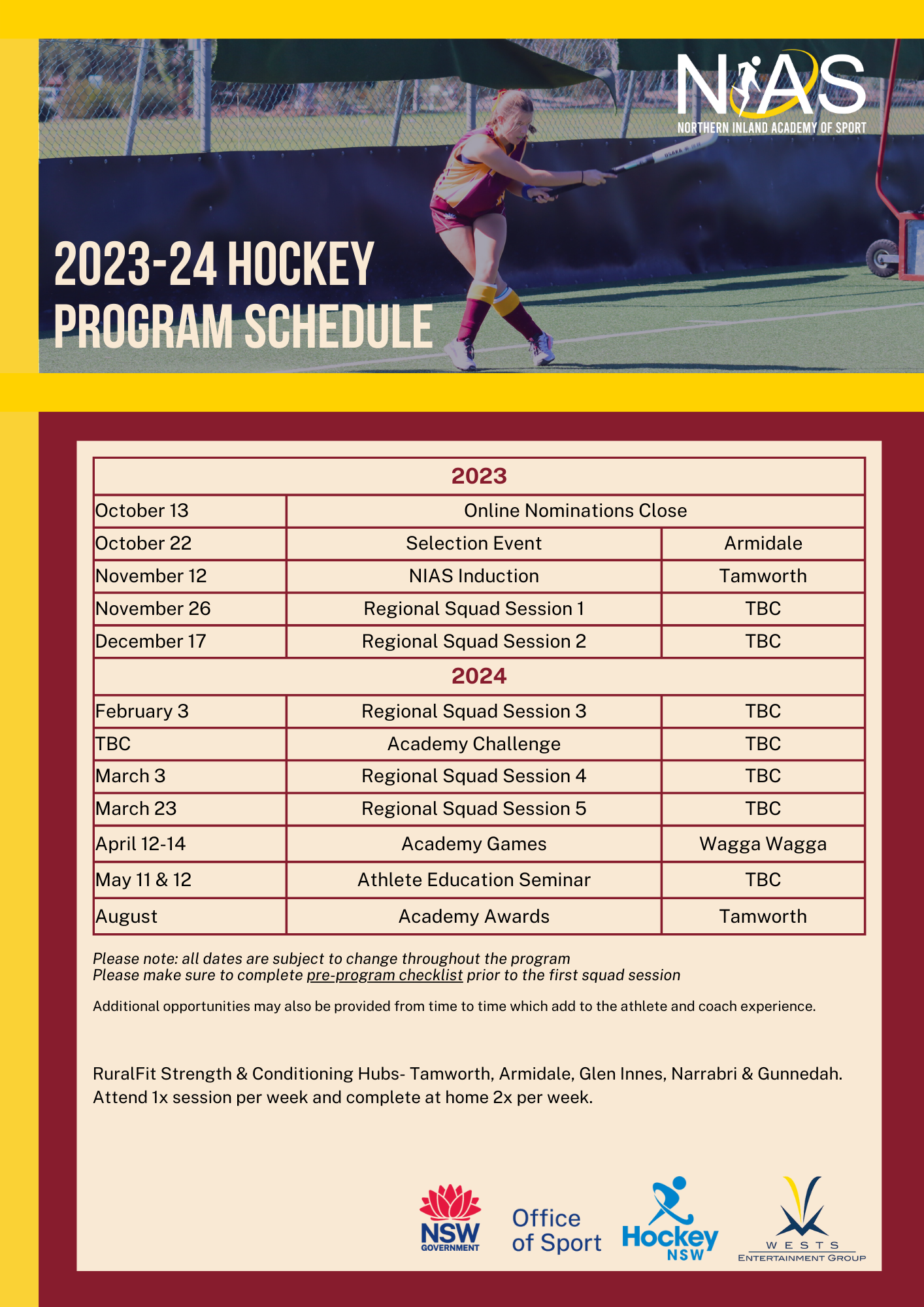 ATHLETE BENEFITS & COMMITMENT
Jorja Brown 
Chloe Clark
Olivia Coombes
Kendra Fitzpatrick
Ami Frost
Emma Gray
Ebony Haydon
Imogen Hislop
Ellesse Peltonen
Lucinda Saunders
Chlore Scicluna
Ava Vaughan 
Danika Watson
Ella Whitty
Peyton Abra
Hannah Butters
Megan Carr
Felicity Chapman
Molly Collett
Olivia Coombes
Kendra Fitzpatrick
Ami Frost
Maggie Highlands
Imogen Hislop
Jeanie Inglis
Mackenzie Lett
Ellesse Peltonen
Lucy Saunders
Tessa Thomson
Ava Vaughan
Danika Watson
Ella Whitty
Ellie Woods
Tom Ball
Eddy Bates
Liam Bower
Henry Kirton
Cameron Le Surf
Andrew Macinas 
Lennox Neilson 
Conal Nicoll
Khye Poutlon 
Tom Tizzard
Eddy Bates
Liam Bower
Sebastian Burrows
Hayden Constable
Braedyn Hayward
Henry Kirton
Lennox Neilson
Conal Nicoll
Jayden Scott
Mitch Scott
The Northern Inland Academy of Sport acknowledges the Traditional Owners of the land on which we work and live. We pay our respects to Elders past and present.
© 2022 Northern Inland Academy of Sport
Website by Proud as Punch Studio