| First Name | Last Name | LGA |
| --- | --- | --- |
| Mackenzie | Knox | Narrabri |
| First Name | Last Name | Position |
| --- | --- | --- |
| Laura | Cambridge | Umpires Coach |
| Sarah | Horne | Umpires Coach |
| Nicky | Lavender | Manager |
The NIAS Netball program operates annually in two periods (November – April and July to September) and plays a significant role in the Netball NSW Athlete Pathway by identifying, monitoring and developing the skills of talented young netballers.The program consists of both on-court skills training, fitness and off-court athlete education and provides:
Regional Training Sessions – technical and tactical skill development. 
Access to a network of specialized coaches
Performance support and education such as Nutrition, Sports Psychology, RuralFit- Strength and Conditioning, Media training.
Opportunities such as attendance at the NSW Netball Academy weekend camp
Participation in higher levels of competition, such as Your Local Club Academy Games and Academy Challenge – for selected athletes.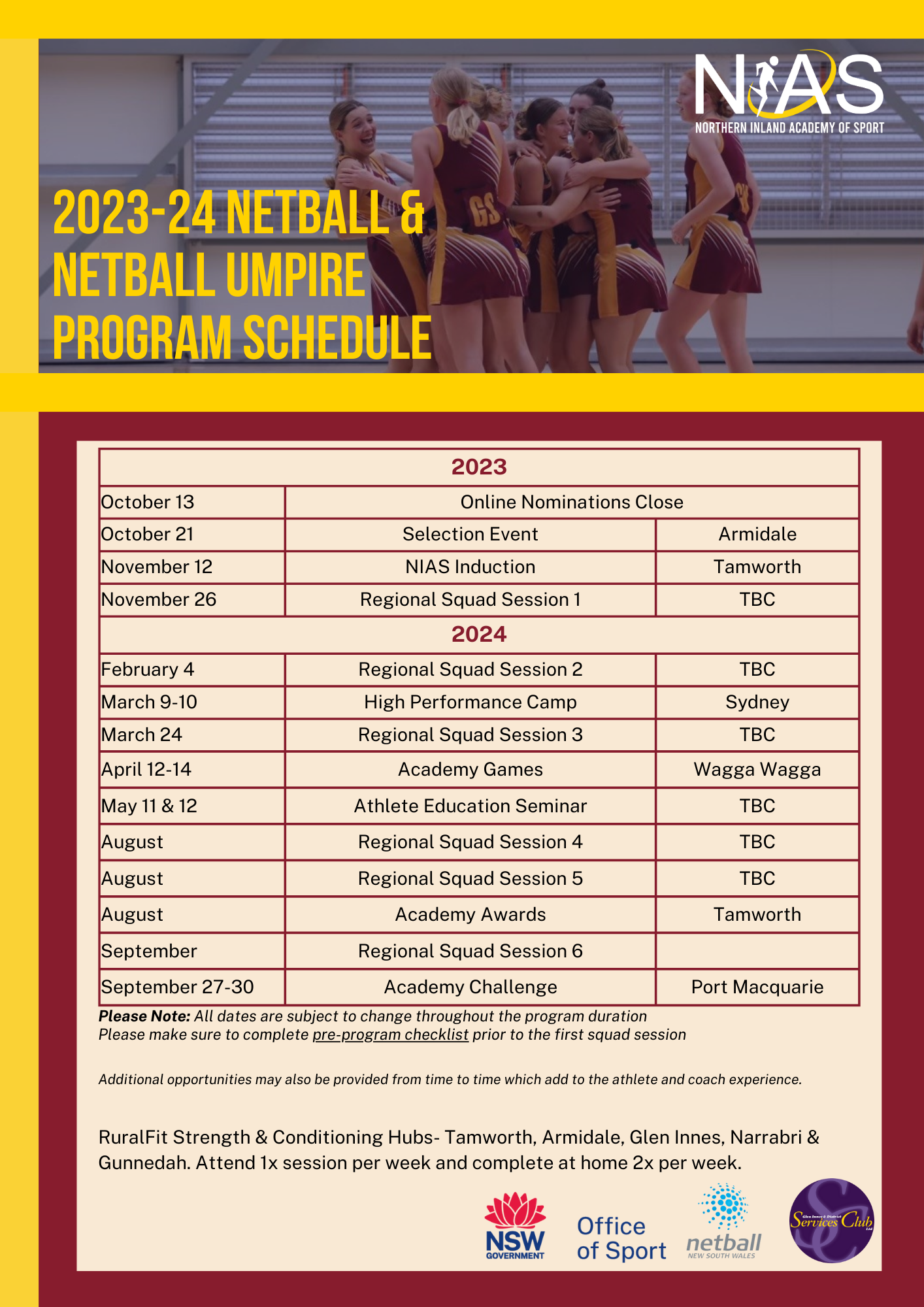 To be eligible for the NIAS Netball Umpires program, athletes must be turning 14-18 years in 2024 (ie. born 2006- 2010).
All athletes must be a registered member of a local Netball association, and reside in or attend school in the NIAS catchment area.
Athletes will be offered a place in the NIAS Netball Program based on performance at selection trials and through talent identification processes, including attitude and commitment to Netball.
ATHLETE BENEFITS & COMMITMENT
The Northern Inland Academy of Sport acknowledges the Traditional Owners of the land on which we work and live. We pay our respects to Elders past and present.
© 2022 Northern Inland Academy of Sport
Website by Proud as Punch Studio