Selection Trials now open for Basketball, Future Star, Golf, Hockey, Mountain Bike, Netball and Netball Umpire athletes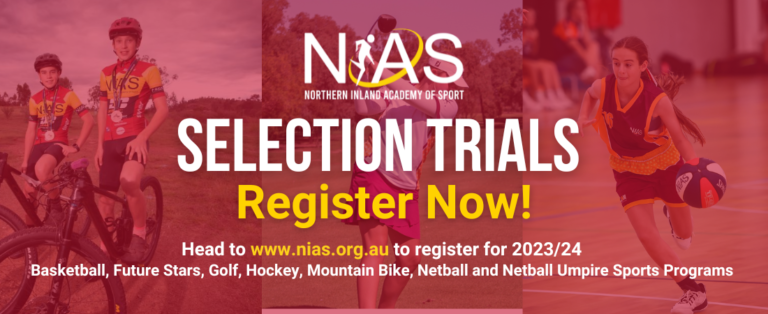 Applications are now open for aspiring young athletes interested in trialling for the Northern Inland Academy of Sport (NIAS) 2023/24 Basketball, Future Star, Golf, Hockey, Mountain Bike, Netball and Netball Umpire Programs.
To apply, please visit the individual Sport page:
NIAS CEO, Shona Eichorn, said the NIAS team is expecting hundreds of aspiring young athletes to apply for the next annual intake of selections for the sporting accelerator organisation and one in a greater Regional Academy network across the state providing these opportunities.
"It's a very exciting time of year for us, when we see the next round of energised and enthusiastic athletes who are striving to take their game to the next level, register for the NIAS 2023/24 Selection Trials," Mrs Eichorn said. "It's very easy to apply, all you need to do is register your interest online via www.nias.org.au and encourage any in your Club, School or Community to do the same."
"We strongly encourage all interested talented athletes in the Northern Inland region aged between 13 and 18* years to apply (*depending on the sport). Selections will be conducted on the weekend of 21& 22 October (Saturday for Basketball and Netball; and Sunday for Golf, Mountain Bike and Hockey), with selected athletes then invited to join the NIAS Sports Programs for 2023/24.
"We are very much looking forward to seeing our most talented young regional athletes showcasing their skills over the trials weekend."
*The required age and DOB for athletes are: Basketball 14-16 (DOB 2008-2010), Future Star (DOB 2006-2010), Golf 13-17 (DOB 2007-2011), Hockey 16-18 (DOB 2006-2008), Mountain Bike 13-16 (2008-2011), Netball 15-16 (DOB 2008-2009) and Netball Umpire 14-18 (DOB 2006-2010).
The Northern Inland Academy of Sport (NIAS) is a community-based organisation dedicated to identifying and preparing talented sportspeople within the region to develop their potential, on and off the field. 
NIAS programs focus on individual growth and development, most in a team environment… it is not about winning a game, but about facilitating and fostering a positive approach to the identified individual's game or approach, through various aspects including performance support.
"The NIAS 2023/24 Sports Programs provide Northern Inland athletes who are looking to move up the sports performance pathway with the access, opportunities, mentorship and skills to do so," Mrs Eichorn said.
"NIAS is an organisation committed to providing the opportunities, pathways and access for our young, talented regional athletes to thrive and transition to higher levels of competition and performance, and one of 11 Regional Academies of Sport across NSW. Who knows where this opportunity might take them in the future, should the athlete dedicate themselves to making the most of what's on offer?
"Through NIAS, athletes have access to development programs, coach support services, industry awards and sporting initiatives that help develop their individual potential on and off the field.
"We have a history of success, with more than 4000 athletes, as well as 400 coaches and volunteers, having been a part of the NIAS community, many continuing on to higher levels of achievement and many others contributing to their community through their experiences."